The National Assembly, which continues to sit this week, will focus on social and economic issues of the last several months and discuss some bills.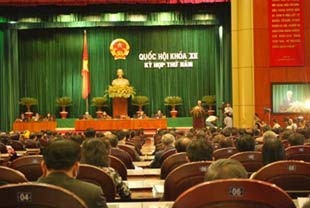 The 12th National Assembly is sitting in Hanoi, with this week's agenda focused on economic issues and laws (Photo: QDND)
The House will have a day and a half from May 26 to consider an additional report on the social and economic situation, including last year's budget revenues and spending.
These debates will be broadcast live on Vietnam Television.
A program to reform the education and training system, especially its financial aspect, in 2009-2014 will be presented to lawmakers on May 30 by Deputy Prime Minister and Minister of Education and Training Nguyen Thien Nhan.
Deputies will give their opinions on the program, which is meant to address one of the major concerns among the public.
 
Also on the agenda is a report on amendments to some laws related to capital construction investment, which will be delivered by Minister of Planning and Investment Vo Hong Phuc.
One of them will seek to unify house-ownership and land-use certificates into a single deed.
The NA will also hear a report by Minister of Health Nguyen Quoc Trieu on the Medical Examination and Treatment Bill.