Millions of Vietnamese attended ceremonies held across the country on the 10th of the third lunar month which falls on April 9 this year, to pay tribute to the Hung Kings, the founders of Van Lang, the first State in Vietnam's history.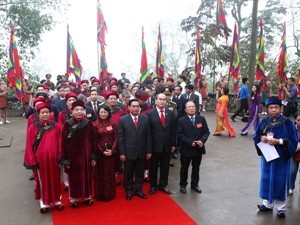 Party and State leaders commemorate Hung Kings (Source: VNA)
The main ceremony was held at the national historical relic site of the Hung Kings Temple in the northern province of Phu Tho, with the attendance of Le Hong Anh, Politburo member and permanent member of the Party Central Committee Secretariat; Nguyen Thien Nhan, Politburo member and President of the Vietnam Fatherland Front's Central Committee, together with many central and local officials, as well as a delegation of overseas Vietnamese and people from all corners of the country.
An estimated 5 million visitors have come to the Hung King Temple to pay respect to the nation's founders since the beginning of the Hung King Temple Festival, which is held annually on this time of the year.
In Ho Chi Minh City, the municipal Party Committee, People's Council, People's Committee and Vietnam Fatherland Front jointly organized a ceremony in commemoration of the Hung Kings.
Addressing the event, Pham Van Hai, Vice Chairman of the municipal committee of the Vietnam Fatherland Front, highlighted the importance of the Van Lang era under the reign of the 18 Hung Kings, when the nation's cultural foundation was laid and the heroic tradition of national defence began.
Vietnamese legend has it that Lac Long Quan, son of Kinh Duong Vuong married to Au Co, daughter of King De Lai. Au Co then gave birth to a sac containing 100 eggs from which 100 children were born. The couple then decided to separate in order to populate the land and propagate the race, so half the children followed their mother to the highlands and the remaining half went with their father to the sea.
The first child went with mother Au Co to Phong Chau, now Phu Tho province. He then became King Hung and founded the first nation in the history of Vietnam, called Van Lang.
Ruling the country through 18 dynasties, Hung Kings taught people how to grow wet rice. They chose Nghia Linh mountain, the highest in the region, to perform rituals devoted to rice and sun deities to pray for lush crops.
To honour Hung Kings' great services, a complex of temples dedicated to the Kings was built on Nghia Linh mountain, and the tenth day of the third lunar month is designated as the annual national commemorative anniversary.
The worshipping rituals of the Hung Kings are closely related to the ancestor worshipping tradition of most Vietnamese families, which forms an important part of people's spiritual lives. It was recognised as a UNESCO Intangible Cultural Heritage of Humanity in 2012.