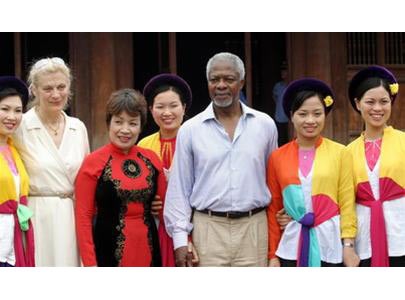 Secretary-General Kofi Annan and his wife (2nd, L) pose with traditional Vietnamese dancers on a trip to Van Mieu (Temple of Literature), Ha Noi on May 25.
The Group of Asian Countries at the United Nations on Oct. 27 agreed to nominate Viet Nam as its only non-permanent member of the United Nations Security Council for 2008-09, said head of Viet Nam's UN resident representative Le Luong Minh.
The Group of Asian Countries' decision would facilitate conditions for Viet Nam to elicit support from other countries for its global efforts from now till the UN organizes elections in October 2007, Mr. Minh told the Viet Nam News Agency.
To become a non-permanent member of the UN Security Council, Viet Nam must win two-thirds of the UN-member votes, or between 125 and 128.
Viet Nam registered in February 1997 to become a candidate for a UN Security Council seat, and has since then actively participated in UN projects, particularly in global peace efforts.
"The nation's bid is supported by other UN-member countries in Asia and other regions around the world," Mr. Minh noted.
Mr.Minh explained that if Viet Nam wins the election to become a UN Security Council member in October 2007, it will become an active member the following month, although official membership would begin in January 2008, according to new regulations.
In order to become a responsible, active member, the State had sent officials abroad to sharpen their knowledge in multilateral relations and Security Council functions, Mr. Minh said.
The UN resident representative also noted meetings and workshops arranged with an aim to exchange views on being a part of the largest international organization.
Mr. Minh said that over the past two years, representative organizations at the UN had acquired more staff members, and would see an increase when Viet Nam becomes a non-permanent member of the Security Council.
"Viet Nam wishes to see comprehensive reforms within the Security Council leaning toward democratic means through wider participation and more efficient working styles," Mr. Minh said.
"Viet Nam supports wider participation of the council's permanent and non-permanent members with a bigger presence of developing countries."
The representative also noted the nation's support for peaceful means to settle international disputes, and condones the use of force and punishments only when necessary.
Military force and punishments must be in line with principles laid down by the UN Charter and international laws to respect independence and territorial integrity of every nation, Mr. Minh said.