National Assembly Chairman Nguyen Sinh Hung arrived at Ciampino Airport in Rome on early March 20 (Vietnam time), beginning his official visit to Italy at the invitation of President of the Chamber of Deputies Laura Boldrini.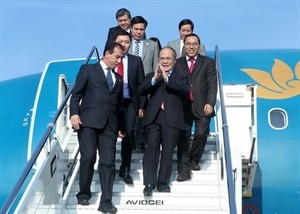 National Assembly Chairman Nguyen Sinh Hung and his entourage arrive at Ciampino Airport (Source: VNA)
His visit aims to consolidate the Vietnam-Italy strategic partnership established in 2013, and tighten parliamentary ties between the two countries.
It also affirms the wish of the Vietnamese National Assembly to constantly intensify bilateral relationship and continue coordinating closely with the Italian side at international forums, contributing to deepening the two countries' strategic partnership.
The NA Chairman is scheduled to meet with President of the Italian Senate Pietro Grasso, visit the Vietnamese Embassy and meet the Vietnamese community in the country later in the day.