Viet Nam's law-makers spent some of Saturday reviewing the socio-economic performance in 2006 and orientations for 2007 with focus on the quality of GDP growth.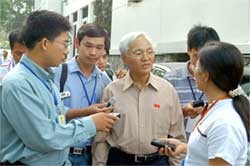 NA deputy Pham Quang Du answers the press in the break

A government's report says Gross Domestic Product (GDP) is estimated to reach 8.2 percent, higher than the target of 8.0 percent.
However, many National Assembly (NA) deputies said the national economy has so far seen no breakthroughs.

"The most outstanding result, as we learnt from the report, is that the government has mobilized a total investment capital that makes up 41 percent of GDP in 2006, higher than the target of 38.6 percent", said NA deputy Pham Quang Du of Ba Ria-Vung Tau province.

Capital is now the most important factor of GDP growth (60 percent), followed by the exploitation and export of crude natural resources, he added.

NA External Affairs Committee's Deputy Head Nguyen Ngoc Tran questioned on the quality of GDP growth despite the fact that Viet Nam has been recognized as one of the fastest growing economies in the world.

Tran argued it was due to slow planning work, weak management and inappropriate distribution of investment capital as well as squander and corruption.

"The analyses of some international organizations show that it is better to maintain an investment rate of 29-30 percent, because there is always a close link between investment and corruption", he said.

Some legislators blamed the lack of science and technology in goods and products for the low GDP quality.

Many of them wanted to know what measures the government will take to help farmers, the biggest group in the country's workforce, escape from possible risks stemming from the fierce competition of foreign farm products.