Construction of a new international airport to meet the country's socio-economic development and demand for air travel was essential, but not urgent, National Assembly deputies said during discussions yesterday.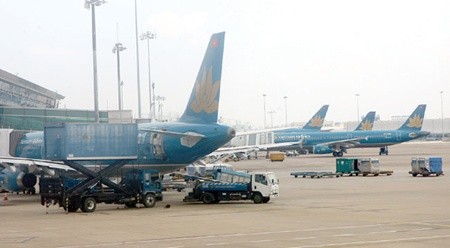 Long Thanh International Airport aims to meet increased demand for air travel. However, the construction can afford to wait, legislators said. – VNA/VNS Photo Huy Hung
Under a Government proposal, the new airport, named Long Thanh, would be built in the southern province of Dong Nai, about 45km from HCM City.
Total investment would amount to about US$18.7 billion. Funding will come from the State budget, Government bonds, Official Development Assistance and private sources.
Deputies said the airport would help serve industrialisation and modernisation targets and help Viet Nam compete with others in the region.
However, many deputies said now was not the right time to build such costly airport because Viet Nam still faced many difficulties.
Deputy Huynh Nghia from the central city of Da Nang said current economic difficulties such as State budget over-expenditure and high public debt did not allow the Government to invest in such a huge project at present.
He added that there were many other areas in need of investment, such as rural infrastructure, agricultural development and salary increases for workers
Deputy Phung Van Hung from the northern province of Cao Bang agreed with the plan, but said such huge investment would put more pressure on public debt.
Deputy Nguyen Ngoc Phuong from the central province of Quang Binh said the new airport could be implemented in 2018 when the economy had developed.
Deputy Tran Du Lich from HCM City said it was difficult to decide on building such a costly airport. However, he said if it wasn't built, relevant agencies must look into how Viet Nam could handle the overload at existing airports.
Under the project, the new airport would be built in three phases. Total investment for the first phase is estimated at VND164.589 trillion (US$7.84 billion).
The Government plans to source VND84.624 trillion ($4 billion) from the State budget, Government bonds and Official Development Assistance (ODA) and the remaining from non-State sectors.
The first phase is expected to be completed in 2025 and the second in 2030.
Verify feedback
Earlier yesterday, NA Chairman Nguyen Sinh Hung asked legislators to carefully evaluate feedback before casting votes of confidence on the three-year performances of top officials.
Deputies are to express "high confidence", "confidence" or "low confidence" in officials elected or approved by the National Assembly, including the President, Vice Presidents, NA Chairperson and Vice Chairpersons, Prime Minister, cabinet members, and Chief Judge of the Supreme People's Court.
The vote of confidence was held for the first time during the fifth session of the 13th NA held in Ha Noi from May 20 to June 21, 2013.
Forty-seven officials were subject to the first round, with two newly-elected members excluded because they had not been in their positions long enough.
Addressing the NA working session yesterday, Hung expressed his belief that the parliament would take an objective and common-sense approach to casting ballots so as to meet public expectations.
He noted that during the ongoing and previous NA sessions, lawmakers would have gained an overview of the national situation with respect to socio-economic development, defence and security, and external affairs. They should use this to evaluate performances before casting their votes, he added.
Also yesterday, 462 deputies, or 92.96 per cent, approved a Resolution on the State Budget allocation for 2015.