At a National Assembly debate yesterday, delegates said two more categories of patients should be subsidized under the health insurance program and warned against destabilizing the market by hiking luxury tax.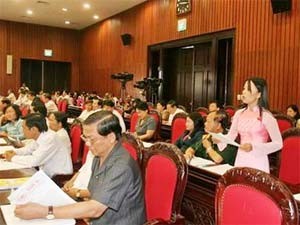 Delegate Luu Thi Chi Lan, from Vinh Phuc province, gives her opinions about health insurance (Photo: Tuoi Tre)
Discussing a draft Law on Health Insurance, they said the current list of people who are subsidized under the Government's medical insurance program should be expanded to include two more categories: people with serious handicaps and communal officials.
Vu Quang Hai, a delegate from Hung Yen Province, said the Ministry of Health should draft regulations for transferring patients between hospitals to minimize the risk of death due to late treatment.
Discussing the Law on Special Consumption Tax, many delegates said the recent rises in tax on goods like alcoholic beverages (from 30 percent to 50 percent) and six-to-nine-seat cars (from 30 to 60 percent) could affect the market. Tax amendments are necessary but they should not affect production and trade, they said.
Duputee Dang Ngoc Tung of HCMC said given the current traffic problems, large public transport vehicles should be given tax breaks.
Tran Thi Quoc Khanh of Ha Noi suggested increasing the tax on golf business to 50 percent from the current 20 percent.
A proposed reduction for beer, from 75 to 45 percent, would reduce revenues by VND1.6 trillion (US$96 million) per year, delegate Nguyen Viet Dung from Ha Noi said. "There should be a suitable roadmap for such a tax cut," he added.
Other goods and services in the "luxury" category, like tobacco, dancing, and massage, should be taxed higher, many delegates said.