Deputy Prime Minister Pham Binh Minh presented a report on the current East Sea issue at the seventh session of the 13th National Assembly on the afternoon of May 20.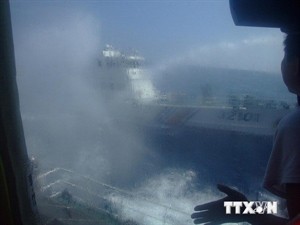 The Chinese ship threatens Vietnamese one (Photo: VNA)
NA deputies were told of Vietnam's response to China's illegal placement of its drilling rig Haiyang Shiyou-981 in Vietnam's exclusive economic zone.
"Vietnam continues its diplomatic measures, and one of them is direct contact with China," affirmed Minh, who is also the country's Foreign Minister, adding that there have been 20 meetings between the two sides since the crisis began.
He emphasised that demanding China to withdraw its rig and vessels from the area is Vietnam 's consistent stance.
The existence of the rig and the increasing number of vessels in Vietnam 's waters show that China is remaining stubborn.
Minh reiterated the Party and State's stance of taking all resolute measures to protect national sovereignty, while keeping an environment of peace and stability for national development and holding firm to the traditional friendship between the people of Vietnam and China.
In response, deputies emphasised the country's highest tasks of promoting economic development and safeguarding sovereignty.
They praised the efforts of coast guard and fisheries surveillance forces and fishermen in protecting the country's sovereignty.
Bui Thi An, representing Hanoi, said she will propose that the Government provide more support to protect these forces and ensure that they are able to perform their missions as best they can.
Many legislators pointed to difficulties faced by those earning their living by offshore fishing, suggesting the Government support them with capital and science-technology.