To better control investment in capital construction, the NA Standing Committee met on May 13 to discuss a bill that makes amendments to laws on Construction, Tendering, Environmental Protection and Business.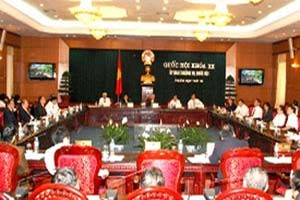 The meeting of NA Standing Committee on May 13 discussed a bill that makes amendments to laws related to capital construction investment. (Photo: KT&DT)
In a report delivered at the meeting, the Minister of Planning and Investment, Vo Hong Phuc, said that many projects needed to be adjusted during construction due to unseen factors. However, the draft law's Article 40 – which regulates project adjustments – requires companies to get permission from relevant agencies, which often takes a long time and holds up progress.

Ha Van Hien, chairman of the NA's Economic Committee, agreed that investors should be able to adjust their projects as required, except in certain cases.

Supervision of investment in State-owned projects is necessary to ensure their quality and efficiency, the meeting agreed. However, the draft law states that all construction projects, including private ones, need to be supervised and assessed, and this regulation is not feasible, Mr Hien pointed out.

He maintained that State agencies should not evaluate investment in private construction projects, as private investors take all legal responsibility when they are granted an investment license.
Mr Hien proposed a draft law with different regulations for State-owned and private projects. For example, he said, private projects only needed supervision over such areas as land use, environment protection and construction quality.

Regarding appointed bidding, under Decree No. 14/2000/ND-CP by the Government, which amends the existing regulations, appointed bidding is applied to "bidding packages valued at under VND1 billion for the procurement of goods or construction and installation; and under VND500 million for consultancy." 
Some committee members said these values were too low but they agreed the Government should have the right to regulate bidding as stated in the draft law. 
In the long run, open bidding should be used more often and appointed bidding should be limited, but in the current economic climate, the Government needs more control over bidding to stimulate investment activities, Mr Hien said.
However, the value of bidding packages should be clearly regulated to avoid confusion and misuse, he added.