The National Assembly spent some of Wednesday discussing how to improve the State administration system and analyzing the efficiency of Viet Nam's policies for socio-economic development.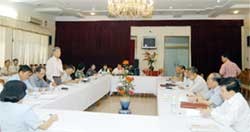 NA deputies of Ho Chi Minh City gather for a group discussion

This year's 8.2 percent rise in Gross Domestic Product (GDP) might be a good start for the 2006-2010 five-year plan, but many NA deputies expressed concern over the quality of GDP growth.

"The quality of GDP growth is a crucial factor for entry to the World Trade Organization. However, it is obvious that Viet Nam is still ill-prepared for that," former PM Phan Van Khai said.

Deputy Truong Hoa Binh from Ho Chi Minh City stressed the importance of human resources. "We must avoid a brain drain and attract the best people," he said.

Many issues were debated in the session, hot topics like pay increases, State subsidies for petrol and coal, commodity exports, school tuition fees and hospital charges.

In the deputies' group discussions, Mr. Phan Van Khai raised the issue of unethical conduct in some government workplaces. He said a number of cadres and State employees had been and still were harassing people, even ganging up on others for their own personal ends.

Deputy Truong Hoa Binh was concerned about the poor performance of local authorities and the inconvenience they caused members of the public. He said the fight against corruption and waste needed more than just words and written statements; it needed concrete action.

Deputies from Thai Binh, Quang Ngai, Lam Dong and Dak Nong said that socio-economic development led to complex issues for rural workers.

When industrial zones are built in the countryside, farmers no longer have land to cultivate and must find work in the city, and it's this migration that is causing massive disruptions in society, they pointed out.

They stressed the government should have proper policies to help farmers find regular work near where they live, for example by setting up craft villages.

Mai Quoc Binh, deputy chief of the Government Inspectorate, said he was saddened by the waste and corruption that he discovered on his tours of inspection. He proposed there be harsh punishment for wrongdoers because, as he said, "economic development must be coupled with social stability".