The last session of the 11th National Assembly (NA) drew to a close on Monday in Ha Noi.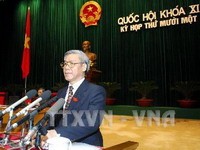 NA Chairman Nguyen Phu Trong delivers his closing speech at the 11th NA's 11 session on April 2 in Ha Noi (Photo: VNA)
Reviewing the NA's performance over the last term, NA Chairman Nguyen Phu Trong affirmed that it made important contributions to the country's achievements particularly with respect to the legal system where major improvements were made.
He also had praise for the NA's effective supervision of State activities and the decisions it made on important matters facing the country. As a result, he said, voter confidence in the Assembly, its deputies and State agencies has thus grown.
On the same day the NA also amended the Law on National Assembly Organization, paving the way for the 12th NA to continue with structural reforms and improve the quality and effectiveness of its activities.
Amendments were also made to article 73 of the Labor Code making the anniversary of King Hung's death (gio to Hung Vuong) a paid public holiday for the country's 13 million workers. The holiday will fall on the 10th day of the third lunar month, starting this year.
The NA also approved a resolution on the construction of a new NA building and agreed to dispense with four projects related to the Ba Ria-Vung Tau Gas-Electricity-Fertilizer Complex as recommended by the Government in a report presented at the beginning of the session.