The National Children's Forum 2011 will be organized jointly by the Ministry of Labor, War Invalids and Social Affairs and the National Committee for Culture, Education and Youth, in Hanoi from August 8-10.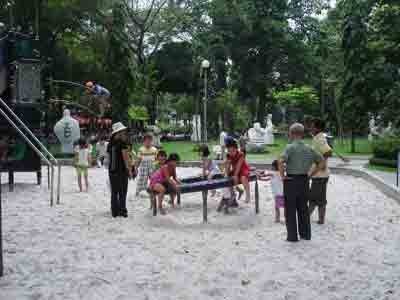 Children feel safe when they can play in a safe, friendly and clean environment ( Photo: U. Phuong)
The forum entitled "Children in safe and friendly environment" will have 184 children from 30 provinces across the country participating in discussions with government representatives and relevant agencies, in which they will express their desires, needs and ways to live a better and healthier life.
Children will also specify their roles and duties in building a friendly and safe environment and lay special emphasis on eliminating child abuse and exploitation of child labour.
Conclusions drawn at the forum from discussions with the young children will be forwarded to social organizations, policy makers and those working for the benefit of children so that they may induct some of those ideas into their working policies for children.
Last month, thousands of children from 30 provinces across the country participated in forum discussions in their districts. They had an opportunity to talk to local administrators and relevant agency heads on topics that concerned them.
Via stories, pictures and exhibits, the children relayed their thoughts and asked questions from policy makers. Most of their wishes were centered on their desire to live in a safe and healthy environment where they could flourish.