Nearly 500 outstanding representatives of 2.2 million war veterans nationwide attended the 4th national congress of their association in Ha Noi on December 12.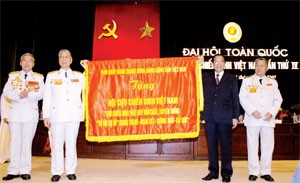 Party chief Nong Duc Manh (2nd, R) attends the 4th national congress of war veterans on Dec 12
Reviewing the 2002-2007 period, Vice President and General Secretary of the Viet Nam War Veterans Association Tran Hanh affirmed that over the past five years, the association has proved itself to be worthy as the representative for the will and rights of war veterans and a reliable supporter of Party committees and authorities at all levels.

Speaking at the event, Party General Secretary Nong Duc Manh urged the association and its chapters at all levels to promote education of members on the Party's directions and policies and President Ho Chi Minh's virtue.

He said war veterans need to continue helping each other in developing household economy, contributing to the nation's poverty alleviation and sustainable development.

The Party leader also urged the association to pay special attention to remote and mountainous areas and former revolutionary bases, and encourage its members to take part in humanitarian activities.