The 2010 National Press Awards were held in Hanoi on June 21 in which Sai Gon Giai Phong reporters won a B prize, a C prize and two consolation prizes.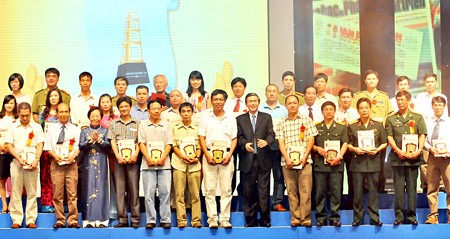 Winners of the B prizes at the 2010 National Press Awards.(Photo:SGGP)
There were 128 awardees which included two A prizes, 24 B prizes, 43 C prizes and 59 consolation prizes. They were honoured at a ceremony yesterday to mark the 86th anniversary of Vietnam's Revolutionary Press Day.
Politburo member Truong Tan Sang hailed the winners and congratulated them at the ceremony.

Sang praised the Vietnamese revolutionary press for steadfastly rejecting distorted news information sent out by hostile forces while at the same time conveying a better understanding of the Vietnamese people and the country to foreign readers.

The Vietnamese revolutionary press has made significant contributions in mobilizing the people to follow the policies of the party, he added.

He said the present day task of Vietnamese journalists was to further enrich their knowledge, cultivate good ethics and immerse deep into every social aspect to be able to write objectively and reach out to people.

Sai Gon Giai Phong reporters won the B prize for the article, "Innovation to develop-the way we go", written by Tran The Tuyen, Nguyen The Nghia, Vu Khoan, Mai Huong and Ai Chan. The C prize went to a Mai Huong reporter for "Platform in the country's border areas". The two consolation prizes went to a Hoai Nam reporter for "National Park's real situation" and to a Han Ni reporter for "Paradox from companies that report losses".

The 2010 National Press Awards received 1,321 entries, the largest number so far, for eight categories of prizes, a 30 percent increase from previous years.

In related news, on the same day the Vietnam Press Association held a ceremony to mark the 86th anniversary of Vietnam's Revolutionary Press Day at the Youth Culture House in Ho Chi Minh City.

The association also granted the 29th Ho Chi Minh City Press Award. Sai Gon Giai Phong reporters won six prizes including one first prize, two second and three third prizes.