The Vietnam National Shipping Lines (Vinalines) has been asked for compensation by a South Korean contractor to pay VND65 billion (US$3.07 million) for breach of contract in Van Phong transshipment port project, said Mr. Nguyen Nhat, head of the Vietnam Maritime Administration on July 13.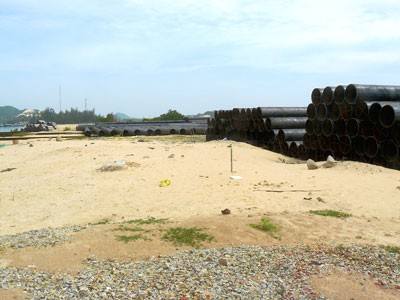 The abandoned construction site of the Van Phong International Transshipment Port project in Khanh Hoa Province (Photo: SGGP)
Construction of the project, invested by Vinalines, was suddenly halted in 2010 because of many reasons including outdated design and substandard stake system to build the quay.
 
When the project was stopped, the company's partner--SK E&C Company claimed Vinalines' compensation for breach of contract at the bid 6b.
 
The case was long-lasting and brought out to the Vietnam International Arbitration Center (VIAC). By January 4 this year, VIAC made a judgment forcing Vinalines to pay VND47.93 billion in compensation for the South Korean company and VND573 million in arbitration costs.
                                                                                                              
By February 26, VIAC continued to make the second decision, requiring Vinalines to pay VND65.26 billion in compensation and VND781 million in mediation costs.
 
The VND1 trillion 6b1 bid was officially started in October 2009 and expected to complete after 20 months of construction.
 
However, Deputy Prime Minister Hoang Trung Hai in September 2012 issued an official announcement on the halt of the project.
 
According to Vinalines, the country's economy faced a lot of difficulties at that time caused by the global economic slowdown. Therefore, the Government stopped some projects to gather capital for other key and necessary projects. This suits the commercial law; as a result Vinalines would not have to suffer commercial sanctions.
 
Vinalines has filed a petition to the Hanoi City People's Court demanding for cancellation of the VIAC's verdict in accordance with the commercial arbitration law.
 
The Van Phong transshipment port project was approved in 2007 with total capital of VND1,073 billion. However, Vinalines then continuously proposed to adjust the number.
 
The project's capital totaled VND6,178 billion on October 31, 2009 when it was started.
 
Construction of the port was expected to complete by October, 2011. However, only 114 out of 1,729 steel stakes have been piled on the construction site of the quay.
 
Vinalines is lodging a complaint against the verdict and the Ministry of Transport is directly solving problems related to the company, Mr. Nhat said.