More than 1,000 outstanding members of the Ho Chi Minh Communist Youth Union (HCMCYU) are attending the union's 9th national congress, which opened in Ha Noi on December 18 with the theme "Unity, creativeness, integration and development".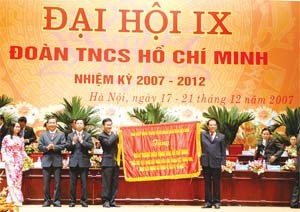 The 9th National Congress of the Ho Chi Minh Communist Youth Union
Presenting a report of the 8th HCMCYU Central Committee, First Secretary Vo Van Thuong affirmed that the HCMCYU had renewed itself comprehensively, becoming a close friend of the youth, making them aware of and live for revolutionary ideal and noble value, encouraging them to pursue lifetime career and take up the role as the vanguard of national socio-economic development.

The union has launched and run various movements to unite and educate young people, creating a healthy environment for the youth to train themselves and assert their capability for their progress on the one hand and the country's development on the other hand.

Speaking at the congress, Party General Secretary Nong Duc Manh urged the union to combine closely its activities with national tasks, especially tasks on socio-economic development, political stability maintenance, Party building and strengthening and building a socialist State of law.

The youth union should work out diverse forms and measures to help the youth get involved deeper in revolutionary movements in all fields and localities, especially remote and disadvantaged areas, the Party leader said.

He said that the union should be in the vanguard of the movement to build a learning society, scientific and technological research and administration reform for the national development.

The congress will last until December 21.