Vietnam has organised a steering committee that will enable the country's tea industry to recover, become highly competitive and achieve sustainable development in the future.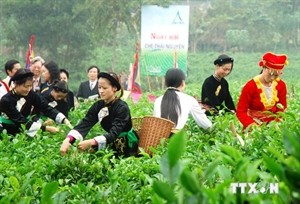 Tea harvesting festival in Thai Nguyen. (VNA)
Last week, the Ministry of Agriculture and Rural Development (MARD) introduced the steering committee with members from concerned ministries and sectors, including the Vietnam Tea Association (Vitas).
Nguyen Anh Hong, Vitas General Secretary, said the committee's establishment was an important solution to the tea industry's current difficulties.
Vietnam is the world's fifth largest tea producer and exporter, but Vietnamese tea products were saddled with inconsistent quality, low competitive ability and low export price that was merely 60 percent of world export price, according to the MARD.
The committee will serve as a bridge between enterprises and state offices in districts and provinces to create favourable conditions for the development of tea production, processing and export activities, Hong explained.
Tea industry enterprises expect the committee to efficiently carry out activities for improving the quality and value of Vietnamese tea exports, she added.
Le Van Duc, Deputy Director of the MARD Plantation Department and Deputy Head of the steering committee, said that by 2020, the tea industry was expected to cover 140,000ha planted to tea trees and to develop safe and productive regions in Son La, Yen Bai and Nghe An provinces.
The industry will apply Vietnamese Good Agricultural Practices (VietGAP) standards for growing tea trees to improve productivity and quality and meet the demands of domestic and world markets, Duc added.
The steering committee will propose that the provinces review their tea-growing regions and tea processing facilities to achieve balance in supply and demand as well as quality in the production and processing of tea.
According to the General Department of Customs, in the first 10 months of 2014, Vietnam exported 109,630 tonnes of tea worth 186.2 million USD. The exports fell by 5.4 percent in volume and 0.3 percent in value year-on-year.