Vietnamese model Binh Minh, who made his debut at Manhunt International in 2002, once again proved his catwalk skills by taking out two prizes at Vietnam Model Awards 2008 on December 21. The new 'king' spoke to SGGP.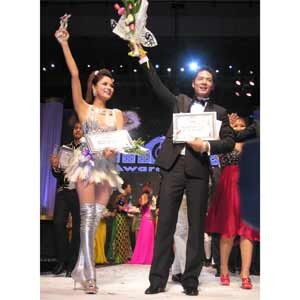 Binh Minh (R) and Vu Thu Phuong receive the 'Best Model' Awards at the Vietnam Model Awards 2008 (Photo: Truong Son)

Would you like to summarize your activities this year? And in your opinion, which one had the biggest impact on the audience vote?


My first piece of luck this year was winning the role of Tien Manh in the TV series 'Co Gai Xau Xi' ('Ugly Girl'), a Vietnamese version of the US series 'Ugly Betty'. This role brought me closer to my fans. I also appeared on the cover of various magazines and modeled in many local fashion shows. But, for me, the most interesting experience came from my new career as an MC. I really appreciate all the love from my fans and want to say many thanks to them for supporting and voting for me in this competition. 
How can you evaluate the quality of the 2008 Vietnam Model Awards? What is the role of these awards in the modeling industry in general and for models in particular?


First of all, the jury contains people I highly appreciate and admire because they are fashion experts and well-educated. The strict regulation of this competition is another factor that makes me believe that this competition is fair and of high-quality.  
About the importance of this competition, I want to say that this is a competition to honor the works and the contribution of models to the domestic modeling industry. This is a good encouragement for the models to continuously improve their modeling skills, body and everything related to the modeling industry. And overall, this will encourage models to contribute more and more to the industry.  
Before the announcement that you had won the 'Best Model' and 'Talented Model' awards, did you think someone would triumph over you to pocket the awards? If yes, can you name that guy and explain why you rate him so highly?


My two most 'formidable opponents' are Duc Tien and Duc Vinh because these guys have made a great contribution to the modeling industry, in particular, and to the society in general this year. I thought the three of us had an equal chance to take home the awards.  
Binh Minh (holding microphone) is always a crowd-pleaser (Photo: Truong Son)

Modeling is an industry in which the models always have to refresh themselves. I see that you are trying to refresh yourself in many ways in various fields, from MC to movie actor, dramatic actor to businessman. Can you talk a little bit about your future plans?    


Currently I have no plan to participate in any new field since I want to focus and do well in my present fields. Whatever I do, whatever I think is to make my image always fresh in the eyes of my audiences. That's the way I thank my fans.      
Would you mind sharing with us some tips in relation to training and working out as a professional model?


If you want to step into the world of professional modeling, first of all, you must have passion and a good work ethic. About the regime, the models always select food that is highly nutritious but low-fat. The most favorite choice of the model is fruit and vegetables. They also have to work out very hard to have a good and fit body shape.
Related article:

Binh Minh, Vu Thu Phuong win Vietnam modeling honors