Around 4,873 hectares of sugarcane in the central province of Nghe An have been hit by sugarcane grassy shoot, an unusual disease that stunts growth, the Plant Protection Department said December 16.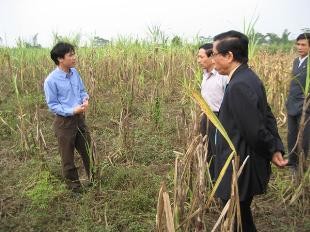 A sugarcane field in Nghe An Province badly damaged by the sugarcane grassy shoot, a disease reported in Vietnam for the first time. (Photo: NNVN)
Reported in Vietnam for the first time, the disease, however, has the ability to spread very widely.
It is caused by a bacterium named phytoplasma and leaves sugarcane with its leaves and neck twisted.
Sugarcane strains most susceptible to grassy shoot are MY 5514, ROC 10, F 156 and, especially, Vien Lam, a variety imported from China, which is 100 percent diseased.
The department has ordered local authorities to destroy farms on which 20 percent of the cane has the disease.