Over 1,600 people attended the Nha Be District employment fair 2006 at the Nha Be Vocational Center (189 Nguyen Van Tao Street, Long Thoi Commune) on April 23.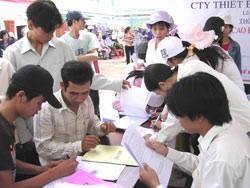 Laborers fill in job application forms at the fair.
This year's fair attracted the attendance of 20 units having a recruitment need of over 8,000 laborers, among whom were 5,060 unskilled laborers.
The employment service center for Tan Thuan Export Processing Zone had the most demand with 2,920 people for all sectors.
Labor export companies also wanted to recruit 500 to work in Asian countries.
Mr. Tran Tien Dat, Director of the Nha Be Vocational Center, said about 986 laborers were employed, among whom 564 laborers were directly interviewed and employed right at the fair.