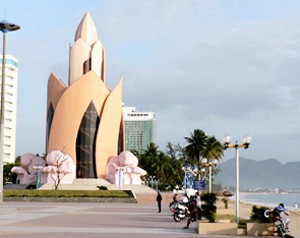 Tram Huong Tower on Nha Trang beach
The Tram Huong (aloe wood) Tower on Nha Trang beach finally opened December 22 after four years of drawn-out construction during which time the local administration palmed it off to a private company.
The tower, originally meant to look like a flower when its construction began in 2004, now looks like an aloe-wood core surrounded by petals.
The government began its construction at an estimated VND11 billion, hoping to make it a symbol of the city. But, after spending nearly VND6 billion, it called a halt in October 2005 when many people described the structure as weird-looking and inappropriate for Nha Trang beach.
This year Vinpearl took over its construction and handed it back to be managed by the Khanh Hoa Province Tourism Company.
It will be used to display pictures and other items to market the province's image.