The People's Committee in the north central province of Quang Binh on November 4 hosted a press conference to announce cable car line project Phong Nha -Ke Bang which ever has rumors false about the 10.6 km cable car system through the world's largest cave Son Doong.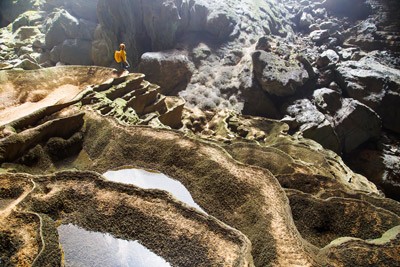 Son Doong Cave (Photo: Ryan Deboodt)
The province People's Committee Chairman Nguyen Huu Hoai said that there would have no cable car lines through Son Doong Cave as per rumors, explaining that the province is working on the plan to design two cable car lines Phong Nha -Ke Bang.
The first one will run 6.7 kilometers starting from Phong Nha Cave entrance to Trang Ang Bridge in the western Ho Chi Minh Highway. The second line will stretch 3.8 kilometers from the Trang An Bridge to a location 300 meters away from the back exit of Son Doong Cave.

The above two cable car lines will completely run in the air, from 50 to 250 meters above the ground, and not run through the Son Doong Cave, he affirmed.

He also denied the information that the cable system will require investment capital of VND4.5 trillion (US$212 million) and that the capital will be reclaimed after four to five years, he added.

Mr. Hoai said that the province has asked the Ministry of Construction for a cable car system plan at the Phong Nha – Ke Bang National Park.

The province will report the project to the Ministry of Culture, Sports and Tourism, other authorized agencies, and the United Nations Educational, Scientific and Cultural Organization (UNESCO). It will only be implemented with these bodies' approval.

At the conference, Director General Dang Minh Truong of the Sun Group, a local resort developer, pledged that the project will not affect the environment and ecosystem in the Phong Nha-Ke Bang National Park, which UNESCO has recognized as the world natural heritage site.

The company has hired the Austrian Company Doppelmayr Seilbahnen GmbH who is doing surveys and designing the cable car project in the Son Doong Cave area.

The two lines will have 30 pillars. Each of them will occupy less than 10 square meters of land in the heritage site. Cameras will be installed on the top of the pillars to supervise forest protection and fire prevention in the heritage site, Mr. Truong added.

Mr. Peter Vogelmann, Doppelmayr Company Director in the Southeast Asia region, said that the company has conducted nine surveys and chosen the best routes to built the cable car lines, minimizing impacts to the heritage site's environment.

The cable car system would be built with least pillars and smallest stations. Construction materials would be transported with cables instead of in a path, which requires chopping down trees to open.

If the project is implemented, it will create jobs for over 1,000 local laborers, said Chairman Nguyen Huu Hoai.