Authorities in Ha Noi have issued an assurance there won't be a shortage of fresh vegetables during next year's Tet lunar new year holiday in January.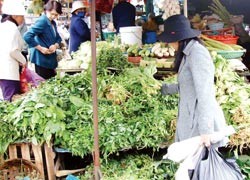 There would not be a shortage of vegetables in Ha Noi for the Tet holidays. (Photo:SGGP)
After floods that caused a shortage of vegetable Ha Noi in early November, the capital has seen an influx of vegetable into wholesale vegetable markets including Long Bien, Dich Vong, Den Lu, Ha Dong, Nga Tu So and Phung Khoang.
According to the management board of Long Bien Market, the amount of local vegetable has risen 40-50 percent, with imports from China accounting for only a small amount. And Dich Vong Market has received an increase of 50 percent of vegetable since the flood-induced shortage.
The availability of vegetables means prices have fallen dramatically, with some varieties selling for 50-60 percent less than during the floods.
The Ha Noi Department of Agriculture and Rural Development said there would not be a shortage of vegetables in the city for the Tet holiday.
In preparation for the high demand during Tet, more than 11,500 hectares of vegetables have been planted in vegetable-growing areas in the districts of Dong Anh, Me Linh, Hoai Duc, Tu Liem, Thanh Tri, Gia Lam and Dan Phuong.
After the massive floods, Ha Noi and its neighboring areas are facing an outbreak of golden snail disease, said Ms. Nguyen Thi Hoa, Head of the Ha Noi Plant Protection Department.
The Department of Agriculture and Rural Development and Financial Department have sent a proposal to the People's Committee of Ha Noi to offer a bounty for the snails to eradicate the problem. Under the proposal, farmers will be given VND1,000 for one kilo of golden snails and VND5,000 for one kilo of its eggs.