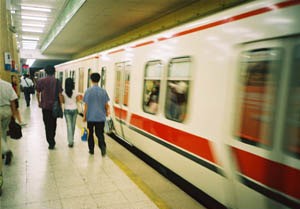 When the project is finished, Ho Chi Minh City will have a subway rail like the one in this photo.
Ho Chi MInh City People's Committee asked the government to permit the construction of the 24-km No.4 subway rail from Nguyen Van Linh Boulevard, District 7 to the Ben Cat Bridge, District Go Vap.

The project investor is the SFECO Corporation of Shanghai, China.
In the first period of the project, 12-km rail from the Khanh Hoi Bridge, District 1 and 4 to Nguyen Kiem, District Go Vap will be built by using China's official development assistance (ODA) capital and other funds.