National Assembly Chairman Nguyen Sinh Hung on January 4 cut the ribbon to inaugurate the second terminal (Terminal T2) of the Noi Bai International Airport, Nhat Tan Bridge and the road connecting the bridge and the airport.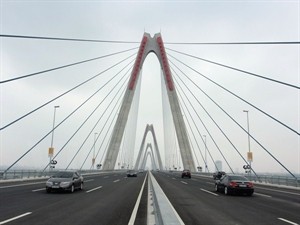 Nhat Tan Bridge opens to traffic (Source: VNA)
The three national key projects were constructed with investment from the Japanese Government's official development assistance (ODA) loans and the Vietnamese Government's corresponding capital.
Speaking at the ceremonies, Deputy Prime Minister Hoang Trung Hai said that the landmark projects symbolise the fruitful traditional friendship between Vietnam and Japan.
He took the occasion to express thanks to the Japanese Government and people for their support and collaboration, saying that he hopes both sides will further step up cooperation activities to enhance the bilateral strategic partnership.
The official stated that under Hanoi's master plan by 2030 with a vision towards 2050, the Nhat Tan-Noi Bai road, along with other belt-roads, will contribute to perfecting the capital city's modern transport system.
Meanwhile, Nhat Tan Bridge will help deal with traffic jam on the Thang Long-Noi Bai route and reduce travelling costs from the centre of Hanoi to adjacent provinces, he added.
Construction of the 8.93 km bridge, one of seven bridges spanning the Red River, started in March 2009 at a total cost of VND13.6 trillion (US$639.2 million).
With eight lanes, Nhat Tan Bridge is one of the three bridges having the largest number of suspension spans in the world, built by Japan's cutting-edge technologies.
The Nhat Tan-Noi Bai route is expected to serve the Noi Bai International Airport's development strategy and boost the socio-economic development of Hanoi's outskirts districts of Dong Anh and Soc Son.
The 12.1 km road, which was constructed at a cost of more than VND6.7 billion, is named after General Vo Nguyen Giap. It will help halve the time to travel from Hanoi to Terminal T2.
Meanwhile, covering an area of around 139,216 sq.m, the nearly US$1 billion four-storey terminal has an annual capacity of serving 10 million passengers in the 2015-2020 period and 15 million passengers in the ten years later.
T2 is expected to help reduce the strain on T1, which has served passengers on both domestic and international flights until now.
The same day, Guest House VIP A of the Noi Bai Airport was also put into service.