The Huu Nghi (Friendship) Gate on the border with China marked the planting of the 1,116th border marker on Dec. 22, making Lang Son the sixth out of the seven northern border provinces to complete their border demarcation task.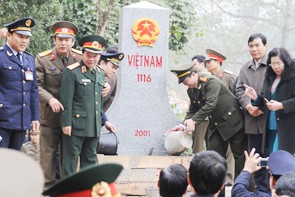 Officials of Vietnam and China plant the 1,116th border marker near the Huu Nghi Border Gate, northern province of Lang Son on Dec. 22, 2008. (Photo: VNA)
Deputy Foreign Minister Vu Dung, who is also head of the governmental delegation for negotiating border issues with China , said during a ceremony to mark the event that the border marker planting scheme was on track to be completed by the 2008 deadline.
He added that the event represented the mutual understanding, equal cooperation and friendship that exists between the two nations in demarcating their shared border.
"The two sides are rushing for the demarcation and planting of the final makers," concluded the chief negotiator.
Vi Van Thanh, Deputy Party Committee Secretary and Chairman of the People's Committee of Lang Son province, said the demarcation process has helped turn the border with China into one of peace, friendship, cooperation and lasting stability, in the interests of the two nations in general, and ethnic minority groups living along the border in particular.
At the Huu Nghi International Border Gate in Lang Son, Vietnam has just planted the 1,116th border marker. On the other side of the border, China will plant the 1,117th marker soon. These two markers act as the main milestones at the gate and are marked with the national emblems of the two countries
The Huu Nghi border gate is an economic corridor between the two countries via the Hanoi-Nanning Expressway and is an important connection between China and the Association of Southeast Asian Nations (ASEAN).
The completion of the border demarcation and border planting scheme at the Huu Nghi Border Gate has paved the way for connecting the Lang Son-Hanoi Expressway with the Nanning-Pingxiang Expressway in China and linking both sides of the Tonkin Gulf economic belt.
Vietnam and China share a 1,400 km-long land border and began border demarcation and marker planting in Mong Cai border gate, Quang Ninh province, and Dongxing border gate in China 's Guangxi province on December 27, 2001.
Only Cao Bang province is yet to complete its demarcation task and is expected to finish the planting of the final few markers before the end of December.