"Developing the Economy of Viet Nam's Northern Midland and Mountainous Regions" was the title of a recent conference presided over by Prime Minister Phan Van Khai in Ha Noi on March 30.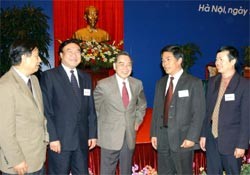 Prime Minister Phan Van Khai (in the middle) at the conference on March 30.
As reported by the Ministry of Planning and Investment, the socio-economic infrastructure of these northern midland and mountainous provinces has been gradually improved during the past five years, especially in the road traffic system, irrigation works, posts and telecommunications.
Thus, the government set its target to increase these regions' GDP by 2.5 times to 2010. Besides, the growth rate of the GDP must be at a higher level than that of other areas.
Also, the provinces must concentrate on shifting their economic structure, in which the rate of production value in two major sectors of industry and services will be increased.
The regions must take full advantages of its strong points in hydroelectric resources, minerals, tourism and border economy.
Speaking at the conference, Prime Minister Phan Van Khai also stressed the importance of the economic structure shifting, which will help the regions maintain their current achievements as well as improve the people's lives.
Moreover, the provinces have to preserve and bring into play the cultural traditions, develop more social welfare programs such as health, education and traffic for the whole region, he added.