Provinces in the northern mountain regions including Lai Chau, Lao Cai, Ha Giang, Cao Bang, Lang Son, Yen Bai and Hoa Binh are experiencing severe water shortages.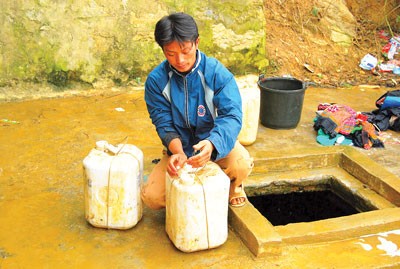 This man has to travel tens of kilometers to take water from a public water tank for his family (Photo: SGGP)
Muong Khuong District in Lao Cai Province is experiencing the worst drought. Local residents living in the limestone geography must carry water 10 kilometers in Din Chin and Ta Gia Khau Commune. It takes the whole day to get 20 liters at public water tanks or rivulets in the mountain.
The two communes have only 3-4 rivulets which run very slowly, said Sung A Tra. Over 1,000 residents experience water shortage and losing 500 hectares of corn grounds.
Residents enter the forest in search for water sources from March to May every year in Bat Xat, Muong Khuong, Si Ma Cai and Bac Ha District, said the Department of Agriculture and Rural Development in Lao Cai Province.
Besides cold snaps, local people have to reel under unseasonal hot and dry winds in the northwestern region during the dry season every year, said Luu Minh Hai, director of the Hydro Meteorological Center in Lao Cai.
Thousands of residents are experiencing the same condition in Ha Giang Province.
The Ministry of Natural Resources and Environment have surveyed and discovered 23 streams on the Dong Van Karst Plateau in Ha Giang. They are studying to build a system to exploit water for four districts.
These streams are expected to supply 9,000 cubic meters per day to meet demand of about 100,000 people.