Building North-South Express Railway is a greatly important mission to improve the economy's competitiveness, meet socioeconomic development and increasing passenger as well as cargo transport demand and solve the overloading situation of road and airway, according to Deputy Prime Minister Trinh Dinh Dung.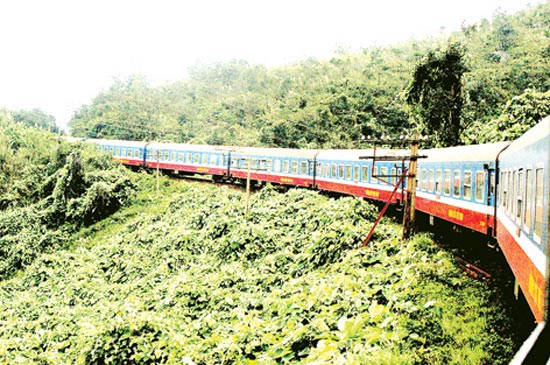 The train traveling in Hai Van mountain pass (Photo: SGGP)
The statement was quoted from a report by the Government Office conveying opinions of the deputy Prime Minister on the express railway project.
Vietnam's railway industry has developed for 135 years along 1,134 kilometers and made significant contributions to socioeconomic development.
However the railway has not been upgraded and broadened to meet development requirements for a long time. The single track railway with the narrow gauge of only 1,000mm has run downgraded.
Railway safety corridor has been encroached seriously. Railway and road intersections are located in densely populated areas. This has limited train speed and threatened railway traffic safety.
Deputy Prime Minister Trinh Dinh Dung said that Vietnam's terrain is long and narrow with two big economic hubs Hanoi and HCMC are located at opposite sides in the northern and southern regions.
Traffic development to connect the two areas with many cities, industrial parks, export processing zones and tourist sites along the route is necessary.
Implementation of the project requires long-lasting investment procedures, huge capital demand with difficult capital recovery ability, modern technology and high quality human resources.
In addition, railway investment must be conducted by the state so the project will put pressure on public debt ceiling.
Therefore, the deputy PM asked relevant agencies to carefully, scientifically and synchronously study the project and suitably calculate investment phases.
He urged the Ministry of Planning and Investment, Finance, Industry and Trade, Science and Technology, Education and Training to study mechanisms to mobilize capital, projects to develop relevant fields including human resource for high speed railway as per Vietnam's development strategy by 2020, visions till 2050.
He prompted the Ministry of Transport to supplement technical regulations and standards on high speed railway, complete a pre-feasibility report of the project and submit it to the State Assessment Council, the Prime Minister and the Government for approval in 2017.
The project will be reported to the Politburo, the Central Committee of the Communist Party of Vietnam and the National Assembly to make a decision in the following year.