The Ministry of Transport has proposed the Government to spend VND93,534 billion (US$4.20 billion) from the state budget in preparation for building North-South Expressway east of the country.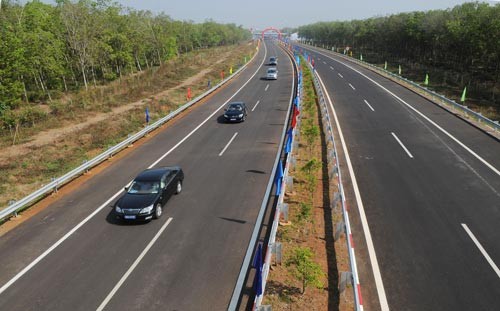 A stretch of HCMC-Long Thanh-Dau Giay Expressway (Illustrative photo: SGGP)
Specifically, the funds will be used for site clearance and consultancy, management and construction assistance costs.
The amount is a prerequisite condition to lure investors in the project because of its huge capital, which payback is impossible to not only look on toll collection but also state assistance, the ministry says.
It will be supplemented into Government's mid and long term investment plans in the phase of 2016-2020, which the transport industry previously had proposed to receive the total funds of VND952,534 billion ($42.76 billion).
According to the ministry's calculations, the $4.20 billion accounts for 40.7 percent of the total capital of VND229,829 billion ($10.32 billion) of the expressway project stretching from Hanoi to HCMC.
Basing on the progress of the project, the ministry expects that investment capital will approximate VND74,692 billion by 2020, VND18,851 billion in the phase of 2021-2022. 2017 alone needs VND8,458 billion.
The ministry said that it was difficult to attract foreign investors for the project because requirements of loan and exchange rate risk guarantee.
Mobilization of domestic investors is more feasible however it also requires a mechanism to increase credit supply limit to implement projects playing significant role to the country's socioeconomic development.
In a document sent to the Ministry of Transport, the Ministry of Finance expressed a concern about the fund raising mechanism of the project.
Specifically, the state budget accounts for 40.7 percent of the project's investment capital, equivalent to 2 percent of Gross Domestic Product, in the phase of 2017-2020. This is a very big amount compared to the mid and long term investment plans which are being built and unsuitable with the Public Investment and Budget Law.

Hence, the Finance Ministry suggested the Transport Ministry to work with the Ministry of Planning and Investment to work on a more feasible and reasonable capital plan for the expressway unless it should consider delaying the project's implementation time.