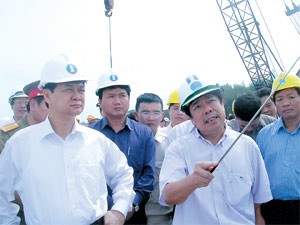 Viet Nam's Prime Minister Nguyen Tan Dung visits Dung Quat Economic Zones on August 4.
Construction of the Dung Quat Oil Refinery, one of Vietnam's most important projects, is 10 months behind schedule and the Prime Minister is urging for progress.
Upon visiting the Dung Quat Economic Zone Friday, Viet Nam's Prime Minister Nguyen Tan Dung said that the project is one of the nation's most important initiatives and its slow progress must be expedited.
According to the Ministry of Construction's report, only 26.7 percent of the refinery has been completed as of July 31, 2006, falling short of 10.4 percent goal.
The PM noted that Dung Quat Oil refinery will play an integral role in Viet Nam's economic and social development and must be completed on time.
The Prime Minister also commented that the construction of the project has improved, but progress has not lived up to expectations and strict discipline must be enforced to ensure timely completion.
PM Dung added that the Ca Mau Gas – Power – Fertilizer Complex and Nghi Son Petro-chemical Refinery Conjugate must also be considered vital national projects in need of smooth completion.