The oil spill just off the main beach at Vung Tau has decreased by around 80 per cent, an official from the Ba Ria-Vung Tau Department of Natural Resources and Environment said on Tuesday.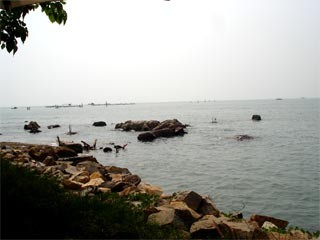 Beaches at Vung Tau stay picturesque place as split oil is cleaned (Photo:U.Phuong)
The remaining oil is mostly sticking to old plastic bags and other garbage in the sea, he added.

His department has told the local authorities and resort employees to continue mopping up the spilt oil, whose origin remains unknown.

The provincial authorities have rejected the idea that the oil was discharged by the Song Thu Company, which they say has a long-standing and well-earned reputation for community responsibility.

In related news, inspectors from the Department of Fisheries checked out several tiger prawn breeding farms in Dat Do and Long Dien districts and found quite a few dead crustaceans.

Chief inspector Nguyen Thanh Cuong said the reason for the young prawns' untimely demise had yet to be determined and suggested either disease or the oil spill.

The inspectors took samples of water from the ponds for testing and warned the farmers not to raise any more prawns for the time being.