Despite the many hardships in oil-rig houses, the time spent with comrades in these "loving homes" were unforgettable ones for soldiers, once they completed their mission. Clusters of oil-rig houses were first established 22 years ago.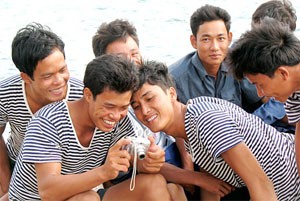 Soldiers at Spratly Islands
The first troops who undertook missions on oil-rig houses may be now working at a different location or a different job. However they still retain and relive fond memories of those grueling and arduous times.
On the day he had to leave the oil-rig house for the mainland, one Captain of the first troop even cried, not over his tenure at the oil rig but at the thought of parting from his comrades.
The first pilot project began with three experimental oil-rig houses designed in the pontoon style on a coral base. According to Lieutenant Colonel Nguyen Dinh Thinh, only a four degree sea wave could shake or drift these houses away. Each oil-rig house had three trays containing petrol and about 10 m3 of freshwater for 14 people for the next six months.
Their extremely limited daily meal ration was mainly canned meat and dried water morning glory from the mainland.
Thinh at that time stayed at Tu Chinh 1A, a more advanced oil-rig house with drilling rig structure and also a coral base. Due to the limitations of building equipments, this house was not stable enough to stand firm against strong winds or huge waves. To solve this problem, the house was consolidated with 100 m3 rock around its legs and held by stakes.
Despite improvements and fortification the house still shook and swayed around and anyone would have felt quite sea sick in it.
According to Thinh, the first oil-rig house now exists only in the memory of soldiers as most of them have fallen into the sea.
According to 25-year-old Nguyen Dinh Chuc, Lieutenant Commander of oil-rig house DK1/8, despite feelings of homesickness, the oil-rig houses in the middle of the sea were second homes for the soldiers and their comrades were their families.
Senior Lieutenant Nguyen Xuan Tai, with nine-year experience in oil-rig houses, finds life still quite interesting there. In spite of hardships encountered, Tai still thought of it as a noble mission.
The most miserable and difficult phase for Tai was when working in oil-rig house DK1/17. The work was complemented but the amount of freshwater provided for a whole year was only 36 m3 and sometimes contained sediments. The soldiers had to use their negligible supply wisely and thought of ways to purify more.
Provisions were often rare especially when the sea was rough. Soldiers made use of the peel of amaranth or unpleasant shrimp paste as meals. When the weather was clear, soldiers caught fish. Each oil-rig house could haul about 15-20kg of fish a day.
The fish not only served as daily meal but also stored for lean times or as gifts for family. The soldiers painstakingly processed raw fish and carefully packed it. This lovingly packed produce was sometimes sent home to their wives and children on the mainland with their deepest sentiments.