A 37-year-old woman was killed and 10 others seriously injured on April 7, in a cooking gas cylinder explosion in a boarding house in Thuan An Town in the southern province of Binh Duong.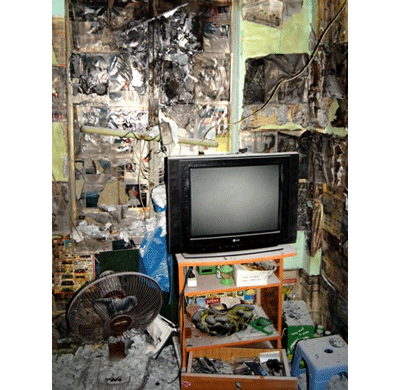 The scene of the explosion
All victims were rushed to the Army Hospital and Cho Ray Hospital. However, on the morning of April 8, 37-year-old Nguyen Thi Tam, from the Mekong delta province of Dong Thap, succumbed to serious burn injuries while the remaining 10 victims are still in critical condition, some suffering from fatal first and second degree burns.
The accident occurred in Room No. 16 when 31-year-old tenant Le Minh Viet, a native of Dong Thap Province, was transferring gas from a 12-kilogram cylinder into a mini gas cylinder.
While transferring the gas, Viet thought that the 12 kilogram cylinder was empty and without gas, so he loosened the safety nozzle.
This caused the gas from the cylinder to leak out and spread throughout the room as well as some other adjoining rooms as well.
At the same time, a working couple returned from their jobs in the adjoining room and got ready to cook a meal on their gas stove. The gas that had leaked into the atmosphere caught fire as soon as they lit their stove, which caused the gas cylinder to explode.
The powerful explosion threw the couple out of their room, while flames spread rapidly to other rooms in the boarding house.
The gas explosion caused Le Minh Viet and his wife, Nguyen Thi Hau, to dash out of the room with their bodies aflame. Workers in four other rooms were also burnt with the flames, many suffering fatal burn injuries.
Lieutenant Colonel Vo Van Hong, deputy chief of Police in Thuan An Town, said the incident was caused by carelessness and total negligence. The incident is under investigation.