A 29-year-old man was killed in a huge fire in the 16-storey BMC shopping mall on 2 Phan Dinh Phung Street in Ha Tinh Province on December 18.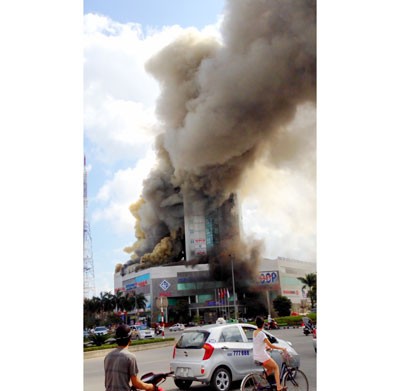 Uncontrollably huge black flames engulfed the building (Photo: SGGP)
Flames were seen erupting at around 10.30 am which quickly engulfed the fourth floor of the mall where a cafeteria and a cinema were located.
The fire spread rapidly on the Styrofoam, which is used for soundproofing rooms for karaoke, resulting in uncontrollably large black flames leaping in the air and causing widespread panic among hundreds of customers and students who were shopping there.
Many people suffered from suffocation, but 29-year-old Pham Xuan Truong from Nghe An Province, a welder on the fourth floor,  was burnt to cinder and died later at the hospital. Many vehicles were burnt completely with only their bare chassis frames left.
Firefighters and military forces were deployed at the scene soon after the fire erupted. All goods on the second floor were brought outside and around 12pm the fire was brought under control. Damages so far are estimated at thousands of billions of dong.
As the building is located in a crowded and main road of the town, many passer-bys stopped to watch, causing a serious traffic gridlock on the road and terror gripped staff in nearby banks. According to the police, the initial cause of the fire came from welding on the fourth floor, which was too close to inflammable materials.