One person was killed in a landslide early Sunday morning, April 15, when a huge mound of earth and rubble dumped near a coal mine in Dai Tu District in the northern province of Thai Nguyen suddenly fell onto tens of houses situated right underneath the dumpsite.
Thousands of cubic metres of earth and rubble that had been dumped from the Phan Me mine, owned by a local state-owned metal processing company named Thai Nguyen Steel Company, fell on several households burying those inside.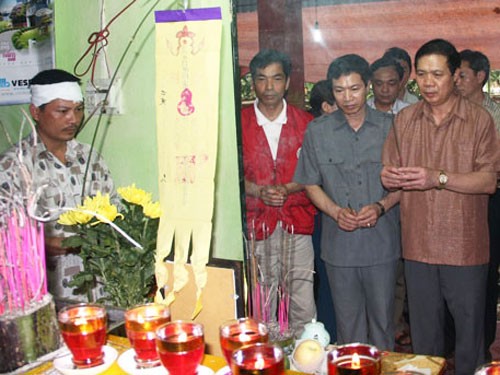 Leaders of Thai Nguyen condole the death of Vu Thi Hong, the landslide victim (Photo Nguoi Lao dong)
Several policemen, soldiers, firefighters and militia have been deployed to find the missing victims. However, the rescue work is proving extremely difficult as the victims were buried under huge mounds of earth and rubble, and there is no specialised equipment like bulldozers or excavating machines to speed up work.
Local witnesses said that at least seven people are still missing at the landslide area in the waste dump site.

So far, only two persons have been pulled out of the debris. One person, Ha Van Xuan, managed to survive the landslide but was severely injured and is being treated at a local hospital.
However, Xuan's wife Vu Thi Hong has been confirmed dead, after her body was found.
Local residents told SGGP reporters that earth and rocks mined at Phan Me had been dumped in the area for years, which has piled high like a mountain now.
Whenever it rains, the waste slides down. Many residents have abandoned their land in this area and moved to safer locations under the relocation scheme offered by authorities. But those households who stayed back are still facing problems.