One person died and one was injured in a serious crash between a truck and a train at 10.30am on April 24 in Ham Thuan Nam District in the coastal central province of Binh Thuan.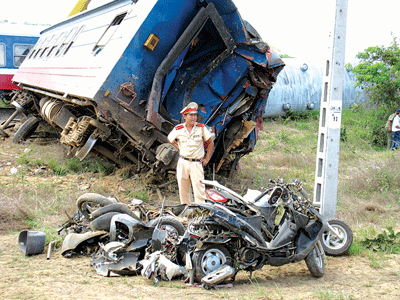 Wreckage at the accident site (Photo: SGGP)
Truck driver Mai Van Trong, 31, was driving at high speed while transporting bricks and mud.  When the truck arrived at an intersection of a road and railway track without a barrier, poor observation and high speed caused driver Trong to crash straight into a train travelling on the Ho Chi Minh City-Phan Thiet route, carrying 168 passengers.
The sudden collision caused two of the train cars to derail while the other were hurled more than a dozen metres from the rail track.
The driver's main cabin compartment ran freely on the tracks, without any control, to the Muong Man station, 10 kilometres away from the scene. Luckily, no one else was injured.
The truck driver died on the spot and a train staff was badly injured. Local authorities are speeding up repair works and heavy bulldozers have been called in to tow the truck from the scene.
Provincial leaders have offered VND5 million to the dead victim's family and VND1 million to the injured person.