One person was killed and three injured when a north- south train slammed into a truck in the central Quang Tri Province yesterday evening.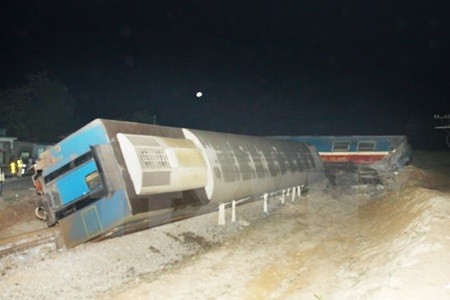 The crash wrecks the truck and derails three coaches of the SE5 train that is travelling from Ha Noi to HCM City. — VNA/VNS Photos Ho Cau
The driver of the train died instantly, while the truck driver was among the three injured persons who were taken to Hue Central Hospital in the neighbouring Thua Thien - Hue Province.
The crash wrecked the truck and derailed three coaches of the SE5 train that was travelling from Ha Noi to HCM City.
Witnesses said that the accident happened at 9:41pm in Hai Lang District, after the train left the Dong Ha Station about 30km away. The truck was crossing the railway line when it was hit by the train.
The provincial authorities and railway staff arrived at the accident site immediately to conduct rescue work and manage traffic. All the other passengers were sent back to Dong Ha Station. The damaged coaches were hauled to the nearby Quang Tri Station.
Those who received mild injuries received medical aid at a local hospital. The drivers of both the train and the truck were residents of Thua Thien - Hue.