The White Palace complex built on military's land in Ho Chi Minh City's Phu Nhuan district was topped off and opened December 1, but, it now turns out, it never had a construction permit.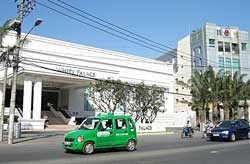 The White Palace on 194 Hoang Van Thu Street
When the two-floor structure on 194 Hoang Van Thu Street was inspected in May, neither the building's owner, the Tay Nam Import-Export Trading Company, nor its contractor, Tan Ky Construction Service Co., Ltd., could provide a construction license.
Nguyen Nhu Hong, head of the inspection team, told Sai Gon Giai Phong he faced obstacles to inspecting the site because it is on land belonging to the military and is thus closed to outside administrators.
His team nonetheless managed to note that when the site was under construction it lacked proper warning signs and barricades to keep dust and debris from flying out onto the street.
According to city Deputy Chief Inspector Duong Ngoc Thanh, though the White Palace is on military land, its usage is civil and commercial and therefore must obey general construction regulations.
The structure was built for lease to weddings and conventions, according to a license granted by the city Department of Planning and Investment.
Ironically, while a construction permit has yet to be issued, the building has been licensed to conduct business.
But, according to its business license, the White Palace was commissioned by the private Nam Bac Hospitality Co., Ltd.
In early October, the district government reported the matter to the municipal Department of Construction and a week later the latter and the Ministry of Defense inspected the building. So far, no official findings have been released.
Adding to the mystery, very little is known about the building.
Yesterday, head of the district government office Tran Thi Mai told Sai Gon Giai Phong her agency has not yet been able to identify either the building's size or whether it was constructed according to originally approved designs.
Tay Nam claims it was built on a 7,382 sq.m. lot costing VND70 billion (US$4.37 million) and was completed in over 200 days. According to advertisements, it boasts seven party halls and has total usable space of over 24,000 sq.m. for 3,200 guests.