President Nguyen Minh Triet is appealing to all levels of society to help the orphaned children of poor fishermen who lost their lives in the devastating storms of recent years.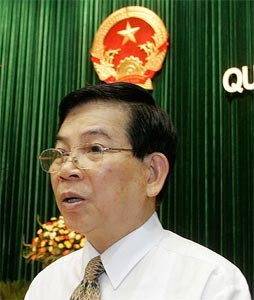 President of State Nguyen Minh Triet
In a letter to the organizers of the "Month of Action for Poor Children in Coastal Areas" campaign on Wednesday, Mr. Triet wrote: "I applaud the Ministry of Fisheries and the Population, Family and Children's Committee for their coordination in organizing the event that starts on April 1, the traditional day of Viet Nam's fishing industry".
President Triet noted that, thanks to a long coastline, Viet Nam's territorial waters were triple the size of the nation's land and were a vital economic zone. This advantage, coupled with other geographical and natural conditions, gave the country great potential for becoming wealthy, and gave a livelihood to the communities along the coast.
However, in spite of the sea's potential and advantage, the severe weather conditions and disasters from storms and floods caused great harm to the people in coastal areas, especially fishermen.
Ten typhoons have ravaged the coast since 1997 and many fishermen have failed to return home. Many families lost their major manpower, their homes and their livelihoods, and it's the children who have suffered the most.
That is whys coastal families are badly in need of good care from the whole of society.
"From the results of the month of action, I hope that the concerned authorities will continue with suitable activities for these people and build up the event into a program which can be promoted broadly in society so that the children can have an education, good care and development, instead of wandering to make a living", President Triet said.
"I hope that the Organizing Board of the Month of Action" will get active responses from all branches, all people with good care and support", Mr. Triet concluded.