Outbreaks of bird flu in the three Mekong delta provinces of Ca Mau, Soc Trang and Hau Giang have been on blamed the neglectful behavior of relevant agencies.
 
Bird flu first occurred in Ca Mau Province, in the southern tip of Vietnam, in the beginning of February.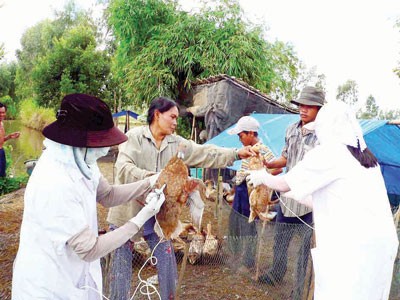 Vets administer shots to free-range ducks in the Mekong delta province of Kien Giang (Photo: SGGP)
To date, three districts in the Province, Tran Van Thoi, Thoi Binh and Phu Tan, have had fresh outbreaks and vets have culled over 6,000 poultry. Just as the disease newly occurs the relaxed behavior of relevant agencies can be seen.
There is a stockpile of 120 million doses of vaccine against bird flu, none of which has not been used. Vets in the district of Tran Van Thoi administered shots to 33,000 water-fowl while the district has 44,000.
Local administrators have not recorded or investigated how many chickens have been taken to neighboring provinces.
Nguyen Xuan Hong, deputy chairman of Ca Mau People's Committee admitted that the proportion of vaccinations is low. Reports on vaccinations are currently inaccurate, with claims of 90 percent of water-fowl reportedly vaccinated though the real figure is much lower. Most unvaccinated ducks become sick.
Huynh Chi Nguyen, deputy director of the Department of Agriculture and Rural Development in Hau Giang province, said that bird flu occurred in Vi Thuy district and has now spread to eight communes in two other districts, Long My and Vi Thuy.
Residents, with little awareness of the disease, heightened the problem by throwing dead poultry into canals.
Hau Giang province declared that it had bird flu on February 11.
Meanwhile, Soc Trang province has had further outbreaks of bird flu in the districts Nga Nam and My Xuyen but has yet to make an official declaration.
One of the main causes has been due to unvaccinated free-range ducks traveling from infected provinces.
At a meeting held in the Mekong delta city of Can Tho, by the Ministry of Agriculture and Rural Development (MARD) February 11, province leaders said that vets are carrying out vaccinations.
Deputy MARD Minister Diep Kinh Tan feared widespread outbreaks of bird flu will occur in the region when farmers harvest the winter-spring crop, requiring local governments to mobilize and take drastic action to fight avian influenza.