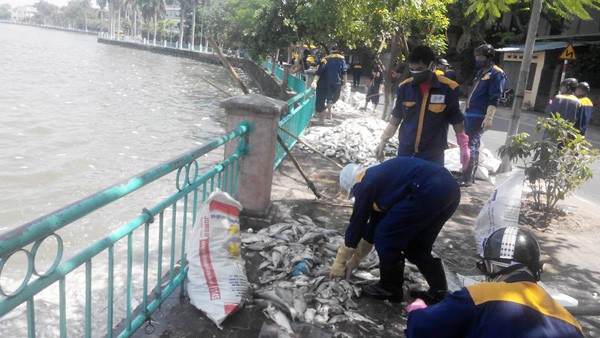 Environment workers fish dead fish out of the lake (Photo: SGGP)
By the afternoon of the October 3, Hanoi's environment workers fished out of 60 tons of dead fish in the Ho Tay (West Lake), the largest lake in the Vietnamese capital city. Workers will continue their work to treat the mass fish deaths, said Chairman of the municipal People's Committee Nguyen Duc Chung told Sai Gon Giai Phong reporter this morning.
However, the mass fish dealths still went belly up in the lake surface which stinks for a long section of road from Thanh Nien-Nguyen Dinh Thi to Trich Sai in Tay Ho District in the South of the lake.
Chairman Chung and relevant authorities arrived at the lake to directly monitor the situation. The Department of Natural Resources and Environment and environment police took samples from different section of the lake for testing to find out the reason of fish dying en mass.
This morning, more and more fish died compared to yesterday. Especially big fish weighing up to 4.5 kilogram also were found. Hundreds of environment workers were fishing out fish from the lake into bags for burying.
According to the initial investigation, relevant agencies said that water in the lake lacked oxygen, which could have potentially lead to the fish deaths. Yet environment police and related agencies will carry out further investigation.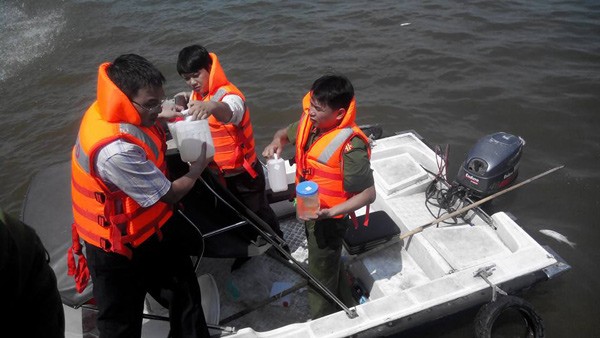 Relevant agencies take samples for testing to find out the cause of the incident (Photo: SGGP)
Chairman Chung said that water in the lake could be polluted accordingly, related
agencies planned to renew water in the lake.

Mr. Chung ordered to set up makeshift in the lake where police officers, soldiers and environment workers stay to fish out all dead fish and bury them

The investigation results will be announced in a few next days.