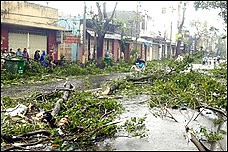 Typhoon Xangsane causes massive property damages in Viet Nam's central coastal provinces
The charity taskforce comprised by Sai Gon Giai Phong Newspaper staff, the Ho Chi Minh City Sponsoring Association for the Poor, and other businessmen, visited the central coast province of Quang Nam to disburse gifts for local families affected by the typhoon on October 10.
Of the VND2.2 billion handed out to residents, nearly VND1.6 billion was in the form of relief food, medicine and other basic necessities.
On behalf of the taskforce Mr. Pham Phu Ngoc Trai, Vice Chairman of the HCMC Sponsoring Association for the Poor and PepsiCo Vietnam's president and CEO, offered his condolences to affected families and encouraged their speedy recovery from the devastation caused by the giant storm.
That same day, the taskforce made a stop at the provincial hospital, where hundreds of wounded people are being treated, and gave each family a relief donation of food valued at 500,000 VND and 1 million VND in cash.
The vice chairwoman of the Quang Nam People's Committee, Ho Thi Thanh Lam, showed great gratitude for the taskforce and the other generous benefactors that have given assistance to the people impacted by the typhoon.