Several businesses and households are exploiting underground water in Ho Chi Minh City without permission from authorities, leading to a sharp drop in the level of groundwater.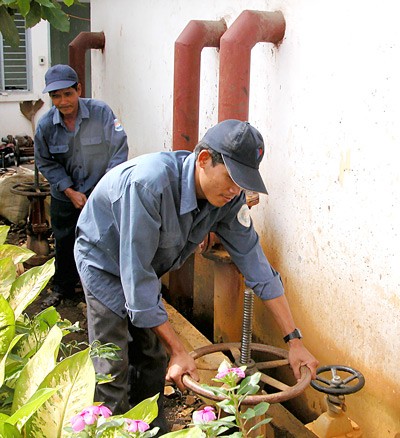 Workers operating a valve in a water plant in Binh Chanh District in HCMC (Photo: SGGP)
According to the Centre for Water Resource Monitoring and Forecast under the Ministry of Natural Resources and Environment, groundwater level has decreased noticeably in Districts 12 and Binh Tan. The water quality has also degraded, with mangan and methane contents exceeding permissible limits.
Nguyen Van Nga, head of the Water and Minerals Management Division at the Department of Natural Resources and Environment, said that an average of 700 businesses are being permitted to exploit at least 350,000 cubic metres of groundwater every single day in the City.
Le Thi Kim Oanh, deputy chief of the department said that their inspectorate had uncovered hundreds of businesses exploiting groundwater without licenses, as it's more cost effective. Most were operating businesses that require high water consumption, like food processing, dying and beverages.
Ms. Oanh said that currently households and businesses are fined only VND500,000 for illegally exploiting groundwater. The penalty is far too low and most of them are willing to pay, and continue exploiting groundwater.
Tax rates imposed on groundwater are also too low, about 1-8 per cent of the price for each cubic metre, amounting to roughly VND4,000. This rate is even less than the cost of tap water.
The Department of Natural Resources and Environment has proposed to the ministry and the People's Committee of HCMC to hike the tax rate as well as the penalty, and force people to seal off wells.
Pham Thanh Truc, head of the Environment Management Division under the City Management Board of Industrial and Export Processing Zones admitted the exploitation of underground water by businesses is a problem for the board in controlling wastewater release by businesses.
Since 2007, the City People's Committee has implemented some measures to limit groundwater exploitation. Accordingly, areas supplied with tap water are not permitted to exploit groundwater. However, the city has yet to outline a map of such areas.
Excessive exploitation of underground water has resulted in increased salt intrusion and pollutants, and more subsiding and sinking of land in various parts of the city.