Vietnamese President Nguyen Minh Triet received yesterday a delegation of 39 overseas Vietnamese from Thailand, Cambodia and Laos who have returned to Viet Nam to respectfully participate in the 61st anniversary celebration of the August Revolution (August 19) and National Day (September 2).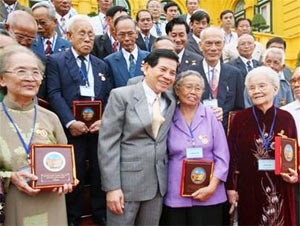 President Nguyen Minh Triet (grey suit) and overseas Vietnamese pose for photographs after the meeting yesterday
"The Party and State are grateful for the invaluable contributions overseas Vietnamese have made to the task of national liberation and construction," said Vietnamese President Nguyen Minh Triet at the meeting. "Overseas Vietnamese are an indispensable part of the country."

Nguyen Xuan Khien, an overseas Vietnamese in Thailand, said, "When returning to our resident countries, we will continue to promote the Vietnamese national spirit and teach our children and grandchildren the fine traditions of the fatherland."

Pham The Duyet, chairman of the Viet Nam Fatherland Front, also held a meeting with the delegates later the same day where the delegation contributed VND9.6 million, Baht2,500 and US$285 to the fund for AO victims.

This time of year is an appropriate season to visit as September 2 marks the day the late President Ho Chi Minh's declaration of independence from France in 1945 while every August commemorates the famed August Revolution of 1945 when Vietnamese revolted against their French colonizers.