Overseas Vietnamese intellectuals and experts gathered at a forum in Ha Noi yesterday, contributing opinions to the country's economic development and integration during 2016-20.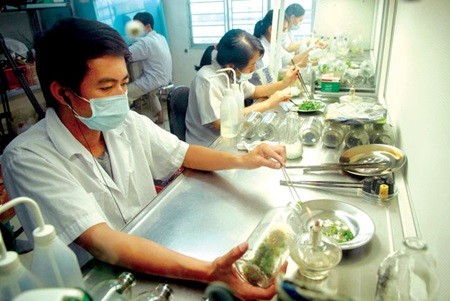 Scientists work at a lab at HCM City Biology Technology Centre. Overseas Vietnamese are encouraged to help implement the application of science and technology to raise Viet Nam's competitiveness. — VNA/VNS Photo Manh Linh
Themed Improving Viet Nam's competitiveness in the global economy, the forum was co-organised by the Party Central Committee's Economic Commission, the State Committee for Overseas Vietnamese Affairs, and the foreign ministry.
State Vice-President Nguyen Thi Doan said Viet Nam had made achievements in all fields as a result of the nearly 30-year doi moi (renewal) process, but various weaknesses had also revealed themselves, which affected the country's competitiveness in the international arena.
She said the weaknesses must be removed to ensure the country's development stayed on the right track, hailing the move to hear the opinions of overseas Vietnamese intellectuals, many of whom were working for prestigious universities, research institutes, trans-national economic groups and international organisations.
Their knowledge, experience and skills had contributed to the country's fast and sustainable growth, she said, adding that the Party and State appreciated these valuable contributions.
Overseas Vietnamese joined domestic colleagues and policy makers in discussing growth model reform, economic restructuring, human resources training and the application of science and technology to raise Viet Nam's competitiveness.
They also provided news about experiences in industrialisation and modernisation in other countries.
They proposed that an annual or regular business forum be held for both domestic and overseas intellectuals, experts and scientists.
Professor Nguyen Duc Khuong, President of the Association of Vietnamese Scientists and Experts in France, said the country's development depended on boosting sustainable growth and improving the financial system.
For a sustainable financial market that is attractive and shock resistant in the international integration context, there is no choice but to liberalise and learn how to manage risks, he said.
A three-pronged solution that he presented involved building: long-term trust of investors; tools to manage the macro financial environment; and an investment culture and enterprise management.
Tran Hai Linh of South Korea's Chonbuk National University shared his research findings on reforming university education and human resources training to develop science and technology in South Korea.
He said some experiences from South Korea can be applied in Viet Nam.
Overseas Vietnamese intellectuals and experts always want to contribute to the country, but they find it difficult due to the lack of information, linking mechanisms and policy incentives, he said.
Viet Nam will be successful if can effectively tap the potential of more than 4.5 million overseas Vietnamese including 400,000 intellectuals and experts, he said.
Vietnamese students typically have a very good educational background, but lack practice, soft skills and ability to work with foreigners, he added.
Prof. Nguyen Quoc Vong of Australia's RMIT's Applied Sciences programme urged more attention to establishing production chains and value additions for agriculture products to make Viet Nam's agriculture sector more competitive.
Sharing his insights on the Australian experience in building new rural areas and advancing hi-tech agriculture, Vong said uneven investment and technology transfer meant that export prices for Vietnamese products were just 50-60 per cent of world average prices.