Viet Nam is about to join the World Trade Organization and is seeking to utilize different resources to deal with challenges. Regarding overseas Vietnamese as a significant resource, Sai Gon Giai Phong newspaper and the Ho Chi Minh City Committee for Overseas Vietnamese held a workshop on overseas Vietnamese businesses' role in the country's WTO accession.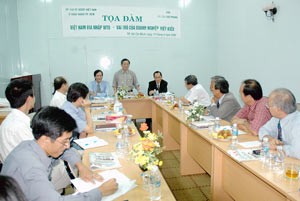 SGGP's workshop on overseas Vietnamese businesses' role in the country's WTO accession(Photo: CT)
Overseas Vietnamese Could Prove Vital in Viet Nam's Integration
The nearly 3 million overseas Vietnamese worldwide have a lot to contribute towards Viet Nam's development, said Mr. Nguyen Chon Trung, director of the Committee for Overseas Vietnamese. They are not only a potential source of funding, he said, but good businessmen and experts in dozens of sectors such as science, research, and education could bring back great things to Viet Nam.
The large number of overseas Vietnamese (Viet Kieu) able to appeal to foreign investors after Viet Nam joins the WTO could play an important part in Viet Nam's progress and integration process, said Mr. Phan Thanh, director of the Overseas Vietnamese Business Association.
Experienced in business and international legislation, overseas Vietnamese could be vital to local enterprises' transition to the global market.
Overseas Vietnamese are capable of helping to bring Viet Nam to its fully-developed potential, said Mr. Nguyen Van Nha, an overseas Vietnamese in Canada who owns successful businesses in Viet Nam.
But proper policies designed to tap the potential Viet Kieu commitment are lacking and the possibilities of Viet Kieu contribution have been underestimated over the past years.
Mr. Nguyen Thanh Lam from Viet Euro Co. says that OV enterprises have finally been recognized by the government with the recent issuance of Resolution 36 on Overseas Vietnamese, designed to attract them back to Viet Nam.
However, the resolution has some drawbacks in terms of civil relationships, house ownership, citizenship, nationality and immigration regulations.
The resolution reveals that the government's policies have yet to make an attractive and effective appeal, encouraging Viet Kieu to invest.
Many said that administrative procedures still hinder new investment projects and limit the investment portfolios.
Mr. Nguyen Chon Trung said COV has signed a deal with the HCMC Export Processing Zone Authority (HEPZA) to grant more favorable conditions to returning Viet Kieu.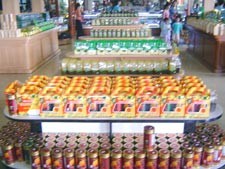 Viet Nam's retail market sees radical changes on the threshold of WTO. (Photo: TC)
The Secretary of Young Overseas Vietnamese Association in France said the government should create more incentives for Viet Kieu to return; otherwise, they will always leave for other countries with more open policies, higher salaries and better working conditions.
Vietnamese-German Nguyen Ngoc Thach shared the same view, adding that they invest in Viet Nam not only because they want to contribute to the development of the country, but they want their children to better understand their homeland. In this sense, a more personal approach is needed to also call upon Viet Kieu's love for the country.
How to Consolidate Overseas Vietnamese' Strengths
In order to bring the strength of overseas Vietnamese back to Vietnam, Mr. Nguyen Thanh Lam mentioned three necessary conditions that may allow and encourage overseas Vietnamese community to act as a bridge between Viet Nam and the rest of the world.
The first is to be determined to pursue innovative policies via strategic action plans, and to build effective laws.
The second is to effectively explore the community's ability to sharpen Vietnamese businesses' competitive edge. He said, "The largest post-WTO challenge will be to continue doi moi (renovation) policies and muster our internal strength."
Thirdly, overseas Vietnamese communities in different countries need to come together to support each other in further strengthening the bonds of the international community to help the fatherland more effectively.
Sharing this viewpoint, Ms. Duong Thu Huong from IDG Risk Investment Fund stressed that different overseas Vietnamese communities need to ensure solidarity and set up prestige first, then ask the Vietnamese Government to listen to their case.
Now that the first and second generations of overseas Vietnamese have created successful businesses, it is advisable to make the third and fourth generations aware that they are continue to help develop Viet Nam, Huong added.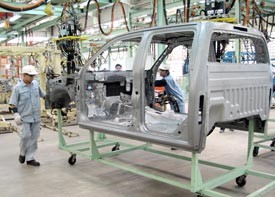 Automobile industry plays an important role in Viet Nam's roadmap to WTO (Photo: Tuong Chau)
"We have suffered much from anti-dumping tariffs set by various overseas markets, and the price to pay would have been lower if we had effectively taken advantage of expertise of overseas Vietnamese," said Hai Minh Co. director Quach Hung Tong said
"In a foreign country, people of Vietnamese origin understand that nation's laws better than others," he said, adding that Thailand has up to 22,000 Thais working on trade promotion, and many of them are living in their target nations.
Accepting the Good Initiative
Sai Gon Giai Phong newspaper will publish all the valuable ideas on Viet Nam's development that overseas Vietnamese contributed at the forum, Editor-in-Chief Mr. Duong Trong Dat ensured.
Vietnamese - German Nguyen Van Nam, said that OV's honest ideas are rarely communicated in newspapers and the media. The Editor-in-Chief also said that the ideas are not only valuable to the country's growth but also of concern and responsibility to Viet Nam.
In addition, Mr. Dat emphasized that SGGP newspaper will take all ideas from overseas people to the responsible figures and policy-makers for consideration.
"Straightforward thoughts are expected as the policy to foreign and private companies, in spite of some changes, has not been as good as expected. We have not exploited all potential from private enterprises. It is a matter that Vietnamese government is working on," said Mr. Dat.