The Ministry of Foreign Affairs on Tuesday held a workshop reviewing the implementation of Politburo Resolution 36 on overseas Vietnamese (Viet Kieu).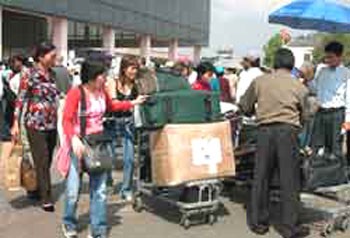 Overseas Vietnamese returning home for Tet holidays

The resolution reaffirms the Viet Kieu community as an integral part of the nation and a significant factor in the country's external relations.
It has made a great impact on the Vietnamese community abroad, making them more confident in the government's policies.

The resolution's implementation by state offices has been rather slow, however, and insufficient information about the government's policies has led to skepticism by some members of the Viet Kieu community.

Nguyen Phu Binh, Deputy Foreign Minister and Head of the Overseas Vietnamese Committee, affirmed that the government will continue to support Viet Kieu who have settled in foreign countries.

The government will create more avenues for Viet Kieu to contribute to the development of the country, he said.

The number of Viet Kieu returning to Viet Nam increased from 300,000 in 2003 to half a million in 2006.

As of 2006, they had undertaken some 2,050 projects in the country resulting in VND14.5 trillion worth of investment.

The amount of money that they have brought into the country has also increased from US$2.7 billion in 2003 to US$4.8 billion in 2006.

Annually, hundreds of overseas experts and intellectuals return to their homeland to do research and teach in local universities and scientific institutes.