Measures to attract overseas Vietnamese intellectuals to contribute to the development of the country is an important task of the HCMC Committee for Overseas Vietnamese (COV), according to Head of COV Nguyen Nhon Trung. Sai Gon Giai Phong speaks with Mr. Nguyen Nhon Trung about the issue.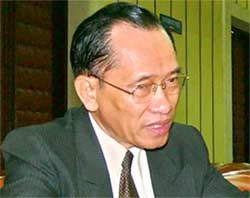 Mr. Nguyen Nhon Trung

* Reporter: Has the Committee got any plan on policies towards overseas Vietnamese experts and intellectuals?



* Mr. Nguyen Chon Trung: It depends on the government's policies. In Ho Chi Minh City, we have some specialized programs and overseas Vietnamese clubs to attract intellectuals. Returning Vietnamese will be given favorable conditions to contribute to the development of Viet Nam.
Many overseas Vietnamese have returned, but some do not know how to connect with nation-building. I think practical and concrete policies are the best way to attract overseas Vietnamese, that is, ways to connect them directly to the agencies building development programs.
* There are hundreds of Vietnamese mass-media agencies abroad giving incorrect information about Vietnam's internal situations, making people feel insecure. Meanwhile, the local mass media cannot approach them. What do you think?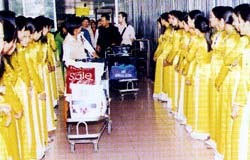 Overseas Vietnamese return homeland on New Year 2006.
* We are trying to improve the quality of COV's website and local online papers. We are also issueing the licence of a newspaper called "Homeland" in order to publicize the government's policies toward overseas Vietnamese.
At present, Vietnamese communities newspapers abroad are dominating the public opinions, so it is important that we call on qualified overseas Vietnamese to write their stories. Many of them write gracefully, persuasively and to the heart.
We will also work with the Ministry of Finance to reduce 50 percent of charges on delivering publications to overseas individuals and organizations.
* The price of services such as tourism, healthcare and house ownership is alwayls always higher for overseas Vietnamese than for locals. How can we tackle the problem?
* It is a fixed policy. I think we should publicize our policies and in case of violation, overseas Vietnamese can make claims. In fact, they do not usually claim violations for fear disturbance, but they feel unpleasant. It will be a difficulty in attracting them here.
The HCMC-based COV has proposed that administrative procedures be publicized and decentralized to relevant authorities.