Pangasius breeders have been suffering heavy losses for a long time and are presently nonplussed as fish prices continue to fall in the Mekong Delta.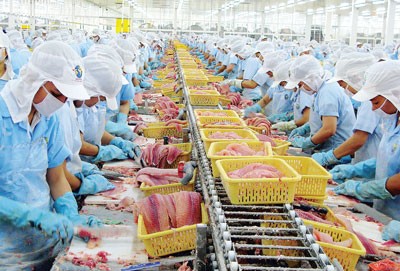 Pangasius fish being processed for export at a factory in the Mekong Delta (Photo: SGGP)
This situation has prevailed for the last two years. Nguyen Khac Phuc, a breeder in Hong Ngu Town of Dong Thap Province, harvested 700 tons of good quality pangasius fish on April 21, but got paid only VND21,000 a kilogram, while cost price was VND23,000, suffering a VND1 billion loss.
Nguyen Van Mach, another breeder from Lai Vung District, said that they continue to face a lot of difficulties because the price continues to plunge.
He is holding onto 150 tons of unsold fish, for which bigger businesses will pay too low an amount and smaller businesses will not give immediate payment.
Breeder Vo Van Hai from Thuan An Ward in Thot Not District in Can Tho City said that thanks to long-term trade relations and good quality fish, businesses agreed to pay him VND21,700 a kilogram. However he still suffered a loss of VND1,000 per kilogram.
The number of breeders quitting from this profession account for 80-90 percent in Thuan An Ward.
Nguyen Trang Su, deputy chairman of the People's Committee in Hong Ngu District in Dong Thap Province, said that 30 percent of households have given up or switched to snakehead fish breeding.
According to Vietnam Association of Seafood Exporters and Producers (VASEP), pangasius export turnover reached US$388 million in the first quarter, a fall of 8.7 percent compared to the same period last year.
The fall was upto 15.3 percent in the EU market, 11.7 percent in the US and 9.2 percent in other markets.
The Ministry of Industry and Trade said that pangasius exports continue to face several challenges. More technical barriers have been set up by several countries and the US has increased the anti-dumping tax, while domestic fish prices have kept plunging.
Ho Van Vang, deputy chairman of Vietnam Pangasius Fish Association, said that breeders should not broaden farming area but concentrate on enhancing quality. Authorized organs should tighten quality control for export, to ensure the prestige of Vietnamese fish in the world market.
Pham Van Ben, director of Co May Fish Feed Company, proposed breeders, exporters, fish feed companies and banks should stand united to lift up the pangasius industry.
Export companies should take the imitative to contact with farmers to form large scale breeding areas. Banks loan for contracts must coordinate exporters, fish feed companies and breeders.
After harvest, breeders can sell their entire stock to export companies.
Ben says this measure will help ensure a profit margin of VND2,000 a kilogram for the breeders, provide stable material source and quality as well as control input prices for export companies.
 
Le Vinh Tan, secretary of the Party's Committee in Dong Thap Province, said pangasius fish is the province's key strength. Exporters must therefore connect with breeders to form large scale farms and production and demand must be monitored simultaneously.